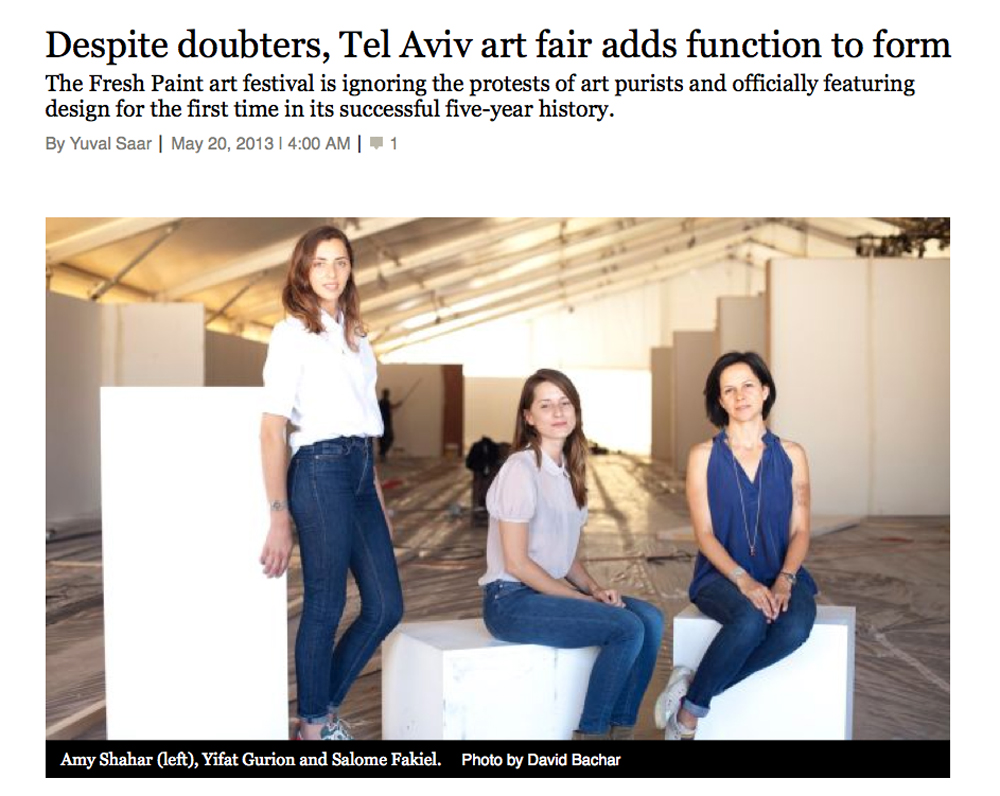 The news that the annual Fresh Paint art fair, which opens Tuesday and runs through Saturday, will for the first time also display works of design came as a surprise to many in both the art and design worlds. But the 30,000 people who attended last year's fair were already witness to the influence of design on it – albeit on a limited scale. In addition to the galleries and artists' greenhouse featured last year, the work of Gal Gaon's Talents Design brand was on display, including limited edition rugs, lighting fixtures and tables and chairs. Talents Design's presence last year didn't cause any ripples, and was in fact celebrated, largely because the pieces were artistic and not accompanied by design work from any other brand.
But this year, a formal Fresh Design fair is being held as part of Fresh Paint. Since the plan for this year's event was announced in February, there have been questions about whether the combination of art and functional items, like lamps and sofas, will work. How will established art galleries, like Rosenfeld, Alon Segev, Sommer, Gordon, Givon and Noga, connect with commercial design brands like Kastiel, Sarit Shani Hay, Arik Ben Simhon, Daniella Lehavi, Soho and Monkey Business?
Speaking anonymously, sources in the art world say they would have preferred to maintain the separation of art and design. Even the fact that the design exhibition will be separately displayed in a tent, called the Design Greenhouse, and will mostly feature young and experimental designers, has not mollified them. Yifat Gurion, who is the artistic director and curator for both art and design, thinks the combination will prove itself.
"The commercial exhibitors were required to present a new project rather than opening another branch of their store. I love the diffusion between the two worlds. I'm not a party to feelings of inferiority of the design world vis-à-vis art. In any event, no one said they wouldn't take part because of the design fair," she said. "It's a pilot project for all of us. All of us are curious to see what happens."
Haaretz: Does that mean last year's participation by Talents Design was a kind of pilot for the pilot?
"Yes," Gurion said. The response was excellent from every direction. The public accepted this as natural. And the company was also to the galleries' liking."
Gurion graduated from the graphic design department of the Bezalel Academy of Arts and Design in 1993 and also has a master's degree in business administration. She founded Fresh Paint five years ago with Sharon Tillinger, who is the chief executive of both the art and design fair. The idea, Gurion said, was "to make it possible for people like me to buy art for my home." In addition, she said, she had met artists who had graduated with her and had no place to display their work. "It was a simple match between supply and demand."
Why is a design fair also needed?
"Over the years, designers had also contacted us asking why we hadn't entered the field, which was in need of a shot in the arm like what the art field got following Fresh Paint," Gurion said. "We discovered that the characteristics of the [design] field were very similar to the art field and that there was a need for such a fair. Beyond that, without cynicism, there's a sense of mission. We have an asset that can help another field, and a fair like this can attract additional audiences."
How different is the audience for design from that for art?
"I also wonder," said Gurion. "At the outset, my sense was that a few more people would come than in prior years. Now I think about 40,000 people will come [compared to last year's 30,000]. We have discovered a large audience that had not been familiar with Fresh Paint."
To secure the professional standing of the design fair, Gurion and Tillinger enlisted the curatorial involvement of the chief curator of the Holon Design Museum, Galit Gaon; independent curator Nirit Nelson, and the Jerusalem Center for the Visual Arts and its curatorial assistants Amy Shahar and Salome Fakiel. Shahar founded the DesignSpace gallery in 2009, where she exhibited interdisciplinary design. She then joined up with Fakiel, and the duo has spent the past two years creating joint ventures, like a video art showing at Tel Aviv's Eden Cinema as part of the city's White Night festival.
"At the Design Greenhouse, the challenge was to try to develop, for example, what was begun as a final [student] project and make it more commercial," Fakiel said. "Many products cannot be sold without improving them or adapting them for sale. Most of the designers at the greenhouse are young and just starting out." She and Shahar are convinced people will buy the design items, noting that they will be available for a wide price range.
Gurion added, "Compared to the art fair, I actually believe it will be easier to sell at the design fair because they are practical items that people are used to buying. You might be able to forgo art, but you always need a chair to sit on and a lamp."
Fresh Paint 6 runs from May 21 through 25 at the Tel Aviv municipality's logistics center at 48 Tel Giborim Street in south Tel Aviv.