Contemporary Ceramic Design
Opening Event – 10th of March until the 27th of April
Artists : Rachel Menashe Dor –רחל מנשה דור , Gila Miller Lapidot – גילה מילר לפידות, Keranica, Ronit Baranga –רונית ברנגה, Sara Shuraki –שרה שוראקי, Michal Farago –מיכל פרגו, Orly Nezer –אורלי נזר, Sahar Bastry –סהר בצרי, Maya Shapira – שפירא מיה, Irit Abba –עירית אבא, Orna Tamir Schestowitz –אורנה טמיר שסטוביץ, Piet Stockmans – פיט סטוקמנס, Ari Talberg – ארי טלברג, Noam Dover and Michal Cederbaum – נועם דובר ומיכל צדרבאום, Hovav Landau – חובב לנדאו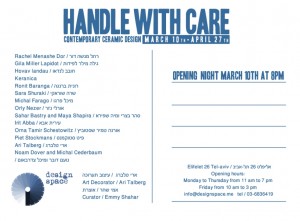 Introducing the exhibition of contemporary ceramic by 14 established and upcoming designers from Israel and abroad. The pieces on show express subjects and details of everyday life.
A departure from tradition, and the current conflict between ecology and consumerism. The word 'ceramic' comes from the greek word 'keramos'
meaning pottery, it is related to an old sanskrit root meaning 'to burn'.
Historically, man has desired to create living spaces which were beautiful, durable, and user friendly. With that in mind, ceramic has been made by man for 4000 years.
Beautiful tiled surfaces have been found in the oldest pyramids, the ruins of babylon, and ancient ruins of greek cities.
Since their origin, ceramic works have continually expanded the functional dimension of objects while also engendering ornamentation, sculpture and installation.
However, ceramics extends beyond the 'design of form', its processes and the act of making fulfill an experiential need as well.
Ceramic production offers the designer the freedom to self-produce independent from industry.
The exhibition attempts to map a complex territory between 'decorative' art, sculpture and art display, within which many of them are parallel to each other.